Biography
Alexis was made in Buckinghamshire in the year 1979.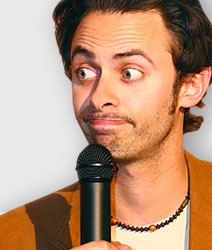 While studying Philosophy & Psychology at the University of Warwick he became a founder member of the student sketch group Ubersausage. At the Edinburgh Festival that year the group got some great critical acclaim and got well and truly had by Sacha Baron Cohen in the guise of Borat. Yep, you can still find it somewhere on the web…
Still, you can't read sarcasm on posters, so "'Greatest comedians in Britain' - Sacha Baron Cohen" was used in big bold type the following year. And where is he now eh? ...
Yeah.
Anyway, here's a brief timeline of comedy things Alexis has done that he is proud of since then:
Alternative Biography
Alexis Dubus was raised by swans following a boating accident on the Thames when all two of his parents dissolved.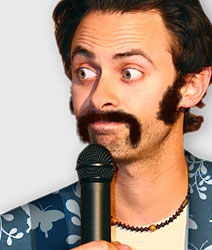 Alexis was possessed by demons in 1993, and again by mistake in 1996. Fortunately they were the kind that don't like to make too much of a fuss.
Alexis Dubus is Latin for "Illiterate Mace-Sheath."
Alexis was conscripted into comedy during the famous worldwide comedian shortage of 2001. Due to the smallprint he is contracted to continue this profession until the day of his death, or the day he makes a Milton Keynes audience laugh, whichever comes first.
Alexis Dubus is 62% water.
Alexis can clap his hands no more than 3,600 times in his life or he will perish.
Alexis believes that every time you sneeze an angel gets mumps.
Alexis is a proud part-time member of the Meat Percussion Orchestra Of Great Britain.
Alexis holds the world record for steampopping.
Alexis Dubus is the current heir to the throne of Utopia.
Alexis' first solo show in 2007 was deemed 'not a success.' In fact, "Alexis Dubus Kicks The Piss Out Of A Grouse" was stopped after 17 minutes, for some reasons.
Alexis Dubus would never have believed, in the last years of the nineteenth century, that human affairs were being watched from the timeless worlds of space. No one could have dreamed that we were being scrutinized, as someone with a microscope studies creatures that swarm and multiply in a drop of water. Few men even considered the possibility of life on other planets and yet, across the gulf of space, minds immeasurably superior to ours regarded this Earth with envious eyes, and slowly and surely, they drew their plans against us.